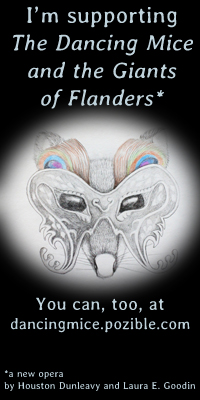 A couple of my wonderful, talented friends,
Laura Goodin
and
Houston Dunleavy
(whose individual blogs are over in the friends list) are collaborating on a new opera that sounds really cool. It's based on Laura's story called "The Dancing Mice and the Giants of Flanders." And they're trying a creative new way to fund it, using crowd funding. They want to raise $2,000 to stage a concert workshop of the opera, so they've set up a
project on Pozible
.
If you can help them out, you'll be doing a good thing for the arts as well as supporting a couple of very creative (and nice) individuals.
Thanks for any help you can give!